Octavio
Character Profile
First Appearance
Dexter: Issue 5
Last Appearance
Dexter: Issue 5
Character
Full Name
Octavio



Status
Deceased
Manner of Death
Stabbed on the neck by Dexter Morgan.
Characteristics
Gender
Male



Personal Status
Marital Status
Unknown



Octavio is a Character in the Dexter Comics. He was a henchman of Steve Gonzalez.
Plot
Dexter: Issue 5
After incapacitating Dexter, Steve Gonzalez calls Octavio to help him pick the body and transport it elsewhere. It is later revealed they took Dexter to Mar Dorado, the real place.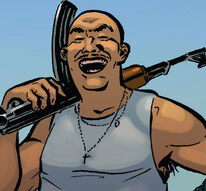 After Steve woke Dexter up, Dexter threatened him, to which Octavio tazzed Dexter to teach him a lesson. On the following days at Mar Dorado, Octavio was Dexter's supervisor  on Dexter's slave labor, and constantly beat him up, most notably after Dexter cut the tongue of another co-worker.
Dexter and Deborah were reunited on a warehouse of Mar Dorado, Steve ready to kill them was interrupted by the arrival of the feds, to which Octavio was left with the order of taking Dexter and Deb off the game. Unexpected to him, Dexter cut loose of his bonds and was ready to kill Octavio with the same pitchfork that Steve used to threaten him and his sister, however he was interrupted by Deborah's cry of help. Neverthless, without been spotted by Deborah, he proceeded to stabb Octavio on the neck with a pitchfork, killing him.