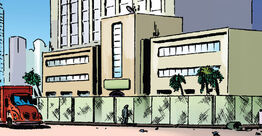 The New Hope Foundation is a non-profit private institution which institutionalizes and helps recover people who have suffered from long term addiction to drugs, have prior criminal records or troubled pasts. To the present, rather than be forced to become part of the organization, all the members of the foundation have applied themselves to become members and seek help by their own means. Members who complete the program and complete their work on the center are gifted with a trip and possible permanent shelter at Mar Dorado, a private resort owned by Steve Gonzalez who has built the resort with the help of the members of the New Hope Foundation. The company is owned by Steve Gonzalez who also acts as the CEO of the organization.
Members
Deron Sanders and William Metz could also be members of the foundation as Steve Gonzalez had a Power of Attorney with their names on his safe.
Trivia
The company is erroneously referred just as Hope Foundation on Dexter Issue #1.