Mustached Victim (Comics)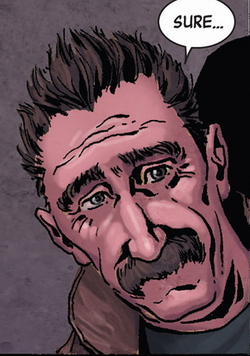 Character Profile
First Appearance
Dexter: Issue 1
Last Appearance
Dexter: Issue 1
Character
Full Name
Unknown



Status
Deceased



Characteristics
Age
30's to 40's
Gender
Male
Eyes
Green
Hair
Brown
Personal Status
Marital Status
Unknown



Professional Status
Profession
Unknown
Killer Profile
"No Known Alias"
Inactive
Number of Victims
At least 1
Modus Operandi
Tools/Weapons
Jagged knife
Killing Method
Presumed to be stabbing.
Method of Disposal
Unknown
Cause
Unknown, probably desire to rape and kill children.
The Mustached Victim is an unnamed Character in the Dexter Comics.
He's shown to be apparently watching a street cleaner as he hoses down an alleyway, before Dexter Morgan approaches him from the shadows. He asks him if he can spare some change, to which the man moves closer saying "he's got something for him" reaching for a knife in his jacket. Before he can react, Dexter lurches forward grabbing the man with one hand and injecting him with M99 using the other.
Dexter proceeds to drag the body into a secluded area, behind some chainlinked fence. He pulls out from the man's other coat pocket a bloodied pink shoe with flower patterns on it, likely belonging to a girl this man had killed. Dexter stands overhead, pulling out his own knife and kills the man afterwards. It's revealed that he took a blood slide for this victim, as the next day he is seen depositing it into his box.
Unknown and unseen little girl
Probably more children
Attempted
Edit
Ad blocker interference detected!
Wikia is a free-to-use site that makes money from advertising. We have a modified experience for viewers using ad blockers

Wikia is not accessible if you've made further modifications. Remove the custom ad blocker rule(s) and the page will load as expected.