Mrs. Doakes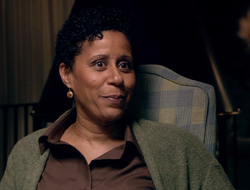 Mrs. Doakes is a Character on DEXTER. She is the mother of Sergeant James Doakes as well as his sisters Jess and Roni Doakes. She was originally married to Mr. Doakes, a butcher as well as an abuser but it's unknown where their relationship went prior to the Ice Truck Killer Investigation or what happened to him.
Mrs. Doakes had been wanting her son to come over for a family dinner, for quite some time and continued texting her son about it. Eventually, he gave in and decided to bring Officer Debra Morgan along to help provide him an excuse to leave early if need be. In reality, she ended up causing him to stay longer as she spent a lot of the evening getting along with his family while his sisters embarrassed him.
She and her daughters are not seen again until after James is killed by Lila West and framed for being the Bay Harbor Butcher. They attend his funeral, where they can be seen sobbing over his casket while Lieutenant Maria LaGuerta sits in a set of pews behind them, with Dexter Morgan watching from the doorway.