Mindy Taylor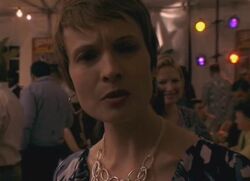 Character Profile
Portrayed By
Ashley Rose Orr (teenager)
Ingrid Beer (adult)
First Appearance
Love American Style
Last Appearance
Those Kinds of Things
Character
Full Name
Mindy Taylor



Status
Alive



Characteristics
Age
40s
Gender
Female
Eyes
Green
Hair
Brown
Personal Status
Marital Status
Married
Spouse
Heather
""You're the last man I've ever dated" - Mindy ,to Dexter"
Mindy Taylor is a character in DEXTER.
Season 1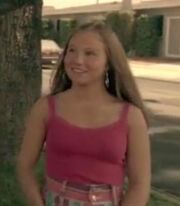 She is a girl who tried to ask Dexter to the spring formal, but when she asked he responded with "Why would I want to do that?" He however did take her to the spring formal at his father's advice, where Dexter pretended to have a good time.
Season 6
They have become acquaintances based on when she greeted him, he said "Hey, Mindy." She had brown hair, white skin, and is revealed later in Season 6 to have stoped dating men after Dexter and eventually married a woman named Heather.