Miles Castner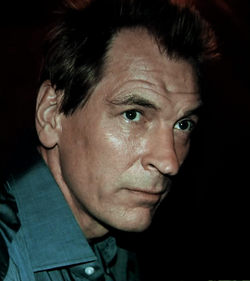 Character Profile
Portrayed By
Julian Sands
Season(s)
Season Eight
First Appearance
Dress Code
Last Appearance
Dress Code
Character
Full Name
Miles Castner



Status
Deceased
Manner of Death
Killed by Hannah McKay
Characteristics
Age
50s (deceased)
Gender
Male
Eyes
Dark blue
Hair
Blonde
Personal Status
Marital Status
Married
Spouse
Hannah McKay/Maggie Castner
Address
Miles Castner's yacht
Professional Status
Profession
International businessman/Casino owner
Miles Castner is a character in DEXTER. He is a wealthy international business man and Hannah McKay's second husband and a minor antagonist. He is played by Julian Sands. 
Plot
Miles first met Hannah when she gave some flowers to him prior to the start of the series. Hannah noted that Miles was obviously attracted to her, but she denied his advances. 
After Hannah is sent to prison for the murder of Sal Price and then subsequently escapes, she turns to Miles, (who is aware of Hannah's past) for help, and he is able to give her a new identity under the name Maggie Castle, and the two get married. However, Miles quickly proves to be obsessive and overbearing on Hannah, controlling every aspect of her life and having her followed wherever she goes. She contemplates killing him, but realizes that if Miles were to mysteriously drop dead, his family, who were already distrusting of Hannah, would immediately suspect her. 
She returns to Miami to seek Dexter Morgan's help and asks Dexter to kill Miles. Dexter declines, since Miles isn't a murderer, but Miles immediately sees Hannah's interaction with her old flame as a threat. He personally informs Dexter that he'd sooner see Hannah return to prison than lose her and tells him that with his connections, he can ruin Dexter's life. Miles even sends some of his men to intimidate Dexter, brutally beating him. 
After Dexter and Hannah meet at her old greenhouse, Miles is enraged at Hannah going behind his back to see him and tells her that he intends to keep her on his yacht with him forever, sailing across the world, and physically attacks her and tries to rape her. At the same time, Dexter is sneaking aboard Miles' yacht (presumably to take him out before he hurts Hannah), but when he gets to his room, he finds Hannah there and Miles dead, Hannah having killed him in self-defense. Dexter assists in helping Hannah cover up the murder, and they dispose of Miles' body in the Gulf Stream.
Gallery
Trivia
Miles is the only character other than Isaak Sirko (who was, at that point, Dexter's ally) whose body was dumped in the Gulf Stream by Dexter, yet was not one of Dexter's victims (although Billy Fleeter, Alex Tilden and Jordan Chase were technically not Dexter's victims, he played a vital role in killing them).
His net worth is over $700 million, likely making him the "wealthiest" kill in the series. Unfortunately, Dexter did not perform the kill, though his act of disappearing the body would likely prevent authorities from finding out that he's dead, let alone catching his killer, i.e. Hannah.
A running joke along the show is that characters are puzzled about ancient Latin names. First of all, of course, Dexter ("right-handed or skillful"), then Lumen ("lamplight") and then again Miles ("soldier").