Michelle Ross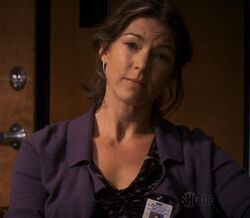 Character Profile
Portrayed By
Rya Kihlstedt
First Appearance
The Angel of Death
Character
Full Name
Michelle Ross



Status
Alive



Characteristics
Age
30s to 40s
Gender
Female
Eyes
Blue
Hair
Brown
Personal Status
Professional Status
Profession
Psychiatrist
Michelle Ross is a character in DEXTER. Michelle works as a therapist called upon by the Miami Metro Police Department offering assistance to their operatives and is personally assigned to Lieutenant Debra Morgan following a shootout early on in Season Six.
Description
Michelle Ross is a woman in her late 30's to early 40's with midlength curly brown hair and a kind, understanding expression often lining her face. She has bright blue eyes and often wears reading glasses, however she removes them when she listens further into her patient's dialogue.
She is always seen with professional clothing, fitting of her role as a psychiatrist.
Personality
Michelle is an open-minded individual, asking just the right questions to ultimately break through Debra's protective barrier regarding her feelings and is able to discover a great deal about her character. In a fact that was originally supposed to main disclosed between herself and her brother (as well as Tom Matthews), Michelle Ross is now one of four characters that knows the true relation between Rudy the Ice Truck Killer (his actual name being Brian Moser but Debra still calls him Rudy) and her adopted brother, Dexter Morgan as biological brothers.
History
Prior to Meeting Debra Morgan
Deb Meets her Therapist
Debra has the added stress of following the Doomsday Killer Investigation and being unable to save Erin Baer as well as the emotional turmoil between herself and Joey Quinn. Even her brother Dexter Morgan is "further away" from her than she ever imagined, rarely ever able to speak to him on a personal level about anything and is constantly surprised by his actions. Before she realizes it, a therapist arrives in her office and Debra reluctantly opens up about her inner feelings.
Problems with Dexter
As the sessions have progressed, more and more focus is put onto Debra's relationship with Dexter and further mention of the Ice Truck killer fits with the rest of the season. Brian Moser appeared to Dexter as an a personification of his Dark Passenger, multiple references have been made to the Ice Truck Killer as well as comparisons by Dexter and even Debra regarding the body parts, even the blood being drained out of one victim. Most importantly...Ryan Chambers having an interest in the case as well as the Bay Harbor Butcher and Trinity Killer case, in addition to Louis Greene's fascination with Dexter as well as owning the Mannequin Hand that once belonged to Brian via one of his victims, Monique.