Ad blocker interference detected!
Wikia is a free-to-use site that makes money from advertising. We have a modified experience for viewers using ad blockers

Wikia is not accessible if you've made further modifications. Remove the custom ad blocker rule(s) and the page will load as expected.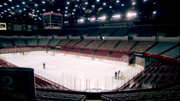 The Miami Blades Ice Stadium
was the location where
Brian Moser
displayed the frozen, exanguinated and neatly packaged body parts of
Sheri Taylor
, via
Tony Tucci
, whom he successfully framed for a moment, until cutting up his hand and leaving it on display in
Petrie Beach
. It is a 20 000 seat arena and the home Ice Stadium for the Miami Blades.