Mariel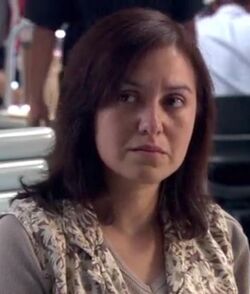 Character Profile
Portrayed By
Minerva García
Season(s)
Season One
First Appearance
Love American Style
Last Appearance
Return to Sender
Character
Full Name
Mariel



Status
Alive



Characteristics
Age
40's
Gender
Female
Eyes
Brown
Hair
Black
Personal Status
Marital Status
Single



Mariel is a character in DEXTER. She is a Cuban immigrant that The Castillos smuggled into the country and was locked in the Storage Room when Dexter Morgan killed them.
Description
Summary
When Dexter Morgan is investigating who killed Ernesto Rodriguez he comes across The Castillos and their smuggling operation. When Dexter moves to abduct Jorge Castillo, He sees him putting some refugees, including Mariel, into his storage unit. Dexter then tranquilizes him and puts him in the trailer. Then the wife, Valerie Castillo shows up and opens the storage doors when Mariel tries to escape. Valerie pistol whips her and locks the door, calling them animals. After Dexter has taken both the husband and wife and kills them, he unlocks the doors and set Mariel and the others free.
Later when Homicide is called in to the scene of Valerie's murder they manage to track her down thanks to a phone number found in the storage unit. Detective Angel Batista and Officer Debra Morgan ask her questions and she tells them everything that happened to the m that night. She then called Valerie a concha which indicated to the detectives that she was involved in the smuggling business. They then ask her about a boy named Oscar who was found at the scene to which she replied that there was no boy with them when she was there. After they were done it is unknown if she was deported or if she was able to stay in the country.