Lyle Sussman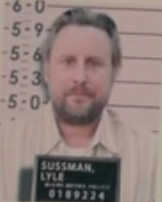 Character Profile
Portrayed By
Scott Michael Morgan
First Appearance
Every Silver Lining
Last Appearance
What's Eating Dexter Morgan?
Character
Full Name
Lyle Sussman



Status
Deceased
Manner of Death
Shot in the head by Oliver Saxon
Characteristics
Age
30s
Gender
Male
Eyes
Brown
Hair
Black
Personal Status
Marital Status
Single



Professional Status
Profession
Hunter
Killer Profile
"No Known Aliases"
Inactive
Number of Victims
At least 1
Modus Operandi
Tools/Weapons
Plastic Bags
Killing Method
Places a plastic bag over victims' head and suffocates him to death
Method of Disposal
See The Brain Surgeon.
Cause
He was kidnapped by Oliver Saxon, who held a gun on his head, forcing him to kill Leonard Welks before killing him anyways.
L​yle Sussman is a minor character that appeared in Season Eight of DEXTER.
History
Sussman was a hunter who was kidnapped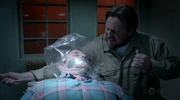 by 
Oliver Saxon
(though at this point, Saxon's identity wasn't known) and forced to kill a man named 
Leonard Welks
 by putting a bag over the latter's head while he was restrained, causing him to suffocate to death. All the
while, Saxon was h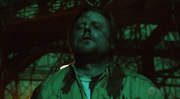 olding a gun on Sussman and shot him in the back of the head at close range (as revealed by the DVD he leaves for
Evelyn Vogel
in her house). Sussman was later found dead at his cabin by 
Dexter Morgan
, having been impaled on a meat hook through the back of his skull. Knowing that the police would come to investigate, Saxon had later restaged the scene in order to make it appear as a suicide, and to convince the authorities that Sussman was 
The Brain Surgeon
. This false evidence resulted in them closing
The Brain Surgeon Case
. Sussman's head was then blown to smithereens with a shotgun, making his occipital lobes accessible (the portion of the brain that's responsible for vision), which were removed and sent to 
Dr. Vogel
in packages.
Trivia