Lucas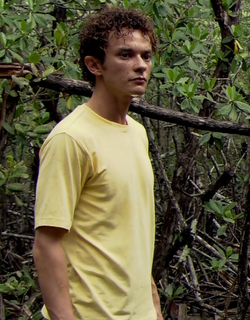 Character Profile
Portrayed By
Anderson Gonclaves
First Appearance
Episode 103: Popping Cherry
Last Appearance
Episode 103: Popping Cherry
Character
Full Name
Lucas
Aliases
None
Status
Alive



Characteristics
Age
16-19
Gender
Male
Eyes
Brown
Hair
Brown
Personal Status
Marital Status
N/A
Spouse
N/A
Affiliation
Homestead Halfway House
Lucas is a Character in DEXTER. He is a young man living in the Homestead Halfway House in Miami, originally alongside Jeremy Downs. Jeremy lured Lucas out to a local swamp that was off limits, telling him that he'd show the boy an alligator that he had found earlier. In reality, Jeremy was attempting to recreate his first kill, to form a ritual as he continued killing. Dexter Morgan was following Jeremy, looking for evidence to make him his next kill and observed the two.
Lucas can be seen growing increasingly cautious of his friend, consistently asking where the alligator is as they go deeper. Jeremy belittles him by asking if he's a "pussy", which Lucas denies as they go further. When they reach a secluded splot, Jeremy tells Lucas to look in the distance for the alligator...watching him as he slowly gets closer to the spot. After a short while, Lucas's paranoia gets the better of him and he stops, turning his attention to Jeremy as he realizes that there isn't an alligator out here.
As Jeremy begins pulling out his knife to try and kill Lucas, Dexter comes out from the woods and scares the two (also preventing Lucas from learning Jeremy had a knife). The two run off, Lucas's life being saved due to the intervention.
Trivia
Amusingly, there was actually an alligator just a few yards away that ends up scaring Dexter as he wanders off in thought following his interruption of the ritual.