Lorna Owens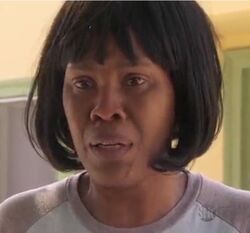 Character Profile
Portrayed By
Dee Freeman
First Appearance
Easy as Pie
Last Appearance
Easy as Pie
Character
Full Name
Lorna Owens



Status
Alive



Characteristics
Age
40's
Gender
Female
Eyes
Brown
Hair
Black
Personal Status
Marital Status
Single
Immediate Relatives
Wendell Owens (son)
Lorna Owens is a character on the show DEXTER. She was the mother of a local kid named Wendell Owens.
She is first mentioned in when Wendell is brought in for questioning on the whereabouts of Freebo. When she realizes that Wendell is with the police she immediately comes to pick him up to try to stop him from giving any information to protect him. This was in vain as the Skinner eventually finds Wendell and skins him alive. After this Lorna finds Debra's business card in Wendell's pants and calls her. She pushes and screams at Debra, believing that she caused Wendell's death, while Quinn holds her back. She then breaks down sobbing (which saddens Debra even more, as she already feels partly responsible for Wendell's murder) and the officers leave her house.
Ad blocker interference detected!
Wikia is a free-to-use site that makes money from advertising. We have a modified experience for viewers using ad blockers

Wikia is not accessible if you've made further modifications. Remove the custom ad blocker rule(s) and the page will load as expected.