Lexi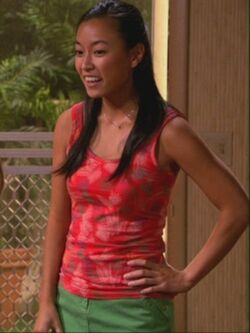 Character Profile
Portrayed By
Stephanie Y. Wang
Season(s)
Season Two
First Appearance
The British Invasion
Last Appearance
The British Invasion
Appears in
One Episode
Character
Full Name
Lexi
Status
Alive
Characteristics
Age
Early 20s
Gender
Female
Eyes
Brown
Hair
Black
Personal Status
Marital Status
Single
Professional Status
Profession
Babysitter
Lexi is a character on Showtime's series DEXTER. She was a babysitter for Astor and Cody Bennett near the end of Season Two
Summary
While at the Miami aquarium, Dexter Morgan told Lila West that he wanted to go away with her and start a new life. However, when Lila later looked into Dexter's bag, she discovered that he was actually planning to kill her. This both infuriated and frightened her.
With a plan in mind, Lila went to Rita Bennett's house, rang the doorbell, and hid behind bushes. Lexi answered the door because Rita was not at home. Lexi walked further outside, thinking that someone was pulling a prank. Lila approached Lexi from the back, and quickly injected her with Dexter's M99. Lexi passed out and Lila left her unconscious on the couch. Lila then took Cody and Astor to her loft as part of her dire scheme.
Meanwhile, Dexter realized from a conversation with Tom Matthews that Lila was up to no good. He rushed to Rita's house and found the children missing with Lexi fast asleep on the couch. She was awakened by Dexter and he asked her where the children were. At that moment, Rita arrived home, asking what was going on. Lexi had no recollection of what had happened, and profusely apologized for falling asleep. Dexter told Rita to call the police (specifically Debra), and he told Lexi to question the neighbors.
It is unknown if Lexi was ever re-offered the position to take care of the children after this incident, even though it was not her fault. It's unlikely that Dexter informed Rita that Lila had used his stolen M99 on Lexi.