Lexi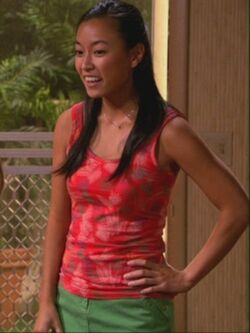 Character Profile
Portrayed By
Stephanie Y. Wang
First Appearance
The British Invasion
Last Appearance
The British Invasion
Character
Full Name
Lexi



Status
Alive



Characteristics
Age
Early 20s
Gender
Female
Eyes
Brown
Hair
Black
Personal Status
Marital Status
Single



Professional Status
Profession
Babysitter
Lexi is a character in Dexter. She was a babysitter for Astor and Cody Bennett near the end of Season Two but Lila West injected her with M99 and left her unconscious on the couch. When she awoke, she had no recollection of what happened to her and assumes she fell asleep on the couch, she becomes a bit hysterical when Dexter and Rita arrive home, apologizing as she becomes exceedingly concerned for the kids.
It is unknown if she's ever re-offered the position to take care of the children after this incident, even though it was not her fault. In the long run it's unsure if Rita knew the full situation or not about the M99 (and Lila) thus she may have just assumed Lexi fell asleep on her own, thus endangering her children.
Ad blocker interference detected!
Wikia is a free-to-use site that makes money from advertising. We have a modified experience for viewers using ad blockers

Wikia is not accessible if you've made further modifications. Remove the custom ad blocker rule(s) and the page will load as expected.