Leonis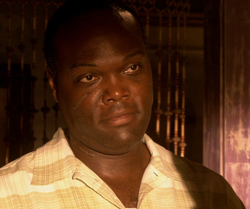 Character Profile
Portrayed By
Peter Macon
First Appearance
Resistance Is Futile
Last Appearance
Resistance Is Futile
Character
Full Name
Leonis



Status
Alive



Characteristics
Age
40s
Gender
Male
Eyes
Brown
Hair
Black (Shaven)
Personal Status
Marital Status
Unknown



""It's a ghost from my past" - Leonis, to Doakes"
Leonis is a Character in DEXTER. He is an ex-special forces officer that used to work with James Doakes in former times.
Suspecting that Dexter Morgan is involved in nefarious activities, Sgt. Doakes breaks into Dexter's apartment to look for evidence. He discovers and steals Dexter's blood-slide trophies. After he hides them inside the trunk of his car, Doakes flies to Haiti. There he meets with Leonis and makes arrangements to have the slides analyzed discreetly in a local hospital lab. However, while Doakes is out of the country, the slides are found and seized by the FBI. This makes Doakes a prime suspect. Later, when Maria LaGuerta learns from Leonis of Doakes' plan to examine the slides, she relays the information to Special Agent Frank Lundy. This causes Lundy to briefly doubt Doakes' guilt. But, in the end, Doakes' body is found at the cabin, along with evidence (planted by Dexter), and he is officially identified as the Bay Harbor Butcher.