Leonis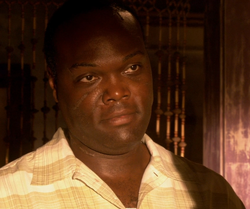 Character Profile
Portrayed By
Peter Macon
First Appearance
Resistance Is Futile
Last Appearance
Resistance Is Futile
Character
Full Name
Leonis



Status
Alive



Characteristics
Age
40s
Gender
Male
Eyes
Brown
Hair
Black (Shaven)
Personal Status
Marital Status
Unknown



""It's a ghost from my past" - Leonis, to Doakes"
Leonis is a Character in DEXTER. He is an ex-special forces officer that used to work with James Doakes. When Doakes is looking into Dexter Morgan for being The Bay Harbor Butcher, he takes his blood-slides and goes to Nicaragua. Their he meets Leonis and asks him to run the slides through a local hospital. He never got the chance however as the slides are taken before they get the chance by the FBI. Maria LaGuerta later gets information from him, saying Doakes was running the slides and relays this information to Special Agent Frank Lundy but didn't make a difference once Doakes' body was found and he is officially identified as the Butcher.
Ad blocker interference detected!
Wikia is a free-to-use site that makes money from advertising. We have a modified experience for viewers using ad blockers

Wikia is not accessible if you've made further modifications. Remove the custom ad blocker rule(s) and the page will load as expected.