Leonard Welks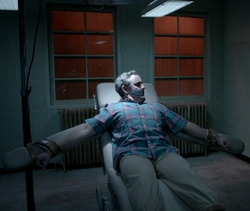 Character Profile
Portrayed By
Dave Chittik
First Appearance
Every Silver Lining
Last Appearance
Every Silver Lining
Character
Full Name
Leonard Welks



Status
Deceased
Manner of Death
Suffocated by Lyle Sussman under orders from Oliver Saxon.
Characteristics
Age
35
Gender
Male
Eyes
Unknown
Hair
Black
Personal Status
Marital Status
Single



Leonard Welks is a character appearing in Season Eight of DEXTER. He was killed by a man named Lyle Sussman in the second episode of the eighth season, who approached Welks while he was strapped to a body-shaped table, placed a plastic bag over his head, and suffocated him to death.  
His body is left out at a skatepark the following day, where Dexter arrives and moves Welks's head, revealing the back of his skull to be sliced open and his anterior insular cortex removed (similarly to Robert Bailey). The plastic bag used to kill him is also left at the crime scene, where the police could check for prints. However, a DVD left in Evelyn Vogel's house reveals that Sussman (who was presumed to be The Brain Surgeon) was coerced into the act of killing Welks by the true Brain Surgeon, who executed him immediately after, (both proving Sussman's innocence and leaving us uncertain of the killer's true identity, though his identity is revealed much later on).