Leonard Welks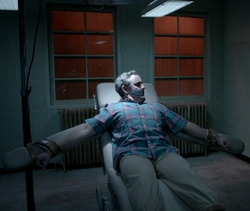 Leonard Welks is a character appearing in Season Eight of DEXTER. He was murdered under the orders of The Brain Surgeon in the second episode.  
Summary
Lyle Sussman approached Welks while he was strapped to an exam table, placed a plastic bag over his head, and suffocated him. (Footage of this event later surfaced.)  
Welks' body was found the following day in a skate park. When Dexter arrived to the scene, he turned Welks' head. This revealed that the back of his skull was sliced open and his anterior insular cortex [1] had been removed (similarly to Robert Bailey). The plastic bag used to kill Welks had been (purposefully) left at the crime scene, and the police checked it for prints. They found a match to Sussman, who was then suspected of being The Brain Surgeon, a serial killer.
A DVD later left in Evelyn Vogel's house revealed that Sussman was coerced into the act of killing Welks by the true Brain Surgeon, who then executed Sussman and set him up. This left uncertainty as to the killer's true identity.
References