Leo Hernandez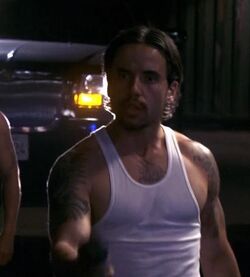 Killer Profile
"No Known Alias"
Inactive
Number of Victims
at least 1 (indirectly)
Modus Operandi
Tools/Weapons
Shotgun and his organization through which he has access to numerous amounts of assassins like Nick
Killing Method
He gets someone vulnerable to commit the murders for him but will get his hands dirty himself if the threat is personal enough
Method of Disposal
None
Cause
He lives in a dangerous world and has people killed to make sure he never gets caught or when he suspects that someone is responsible for one of his members deaths
Leo Hernandez is a character introduced in Season Six of DEXTER. He made his first appearance in the second episode of the season, though remained unnamed until the sixth episode.
Following the disappearance of Julio Benes, he became the leader of the Loco's. Although at first believed to be the murderer of Brother Sam, Dexter later realizes that if it were indeed him, then Eli would have been barking. This leads him to the conclusion that Nick shot Sam, which was later confirmed by both.
Before Dexter discovered he wasn't the murderer, he believed he was, and tracked him to his home with the intent of killing him. Before he could, Mike Anderson and several other cops showed up. A shootout ensued, and he was left dead.