Lenny Asher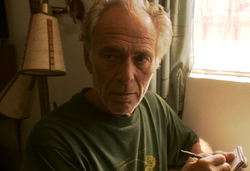 Character Profile
Portrayed By
Bruce Weitz
Season(s)
Season Two
First Appearance
Morning Comes
Last Appearance
Morning Comes
Appears in
One Episode
Character
Full Name
Lenny Asher
Status
Alive
Characteristics
Age
60s
Gender
Male
Eyes
Brown
Hair
Gray (formerly brown)
Personal Status
Marital Status
Single
Lenny Asher is a character on Showtime's series DEXTER.
Summary
He was a reclusive, paranoid man who kept detailed notes of whatever drew his attention as he peered out of his windows. He often called the police for minuscule issues, even once calling them because of the way the clouds looked.
Lenny lived next to Anthony Rodrigo and was suspicious of his activities. One night, Lenny unknowingly witnessed Dexter Morgan carrying an unconscious Rodrigo to a car in preparation for his murder. Even though Lenny thought that it just was a friend helping a drunken Rodrigo, he recorded the car's license plate number.
During the Bay Harbor Butcher Investigation,Officer Debra Morgan and Detective Angel Batista questioned Lenny about Rodrigo. Lenny gave them the boxes of notes that he had kept for 2002 (the year that Rodrigo went missing).
Debra and Angel went through Lenny's notes, and discovered that the car that Rodrigo was last seen in had belonged to a drug dealer named Charlie Lewis. At first, they thought that Lewis had murdered Rodrigo until they noticed that he had been in prison and his car was impounded by the Miami Police Dept. They then realized, to their dismay, that one of their co-workers had used the car to abduct Rodrigo. Unfortunately, there was no longer a record of who had borrowed the car that night.