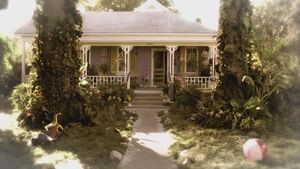 This house is where Dexter Morgan and Brian Moser lived with their mother (Laura Moser) before Laura Moser was murdered. It is here that Dexter lived before being taken in by the Morgans when he was three-years-old. It is a simple one-story house with a patio. Even though it is no longer where Dexter lives, this house becomes a haunting memory for Dexter.
Season One
Dexter first came to this house in search of his sister Debra Morgan who was kidnapped by Brian. When he arrived he had flashbacks to his childhood and remembered his brother and mother. Brian then took him to the garage to kill Debra Morgan in the style in which he is used to. Dexter, however, refused and had a brief struggle after which Brian escaped before the police arrived.
Season Four
Debra Morgan later returned to this house in search of one of Harry's informants with whom he had an affair, only to remember that it was the same house that she was taken to by the Ice Truck Killer. This later led to her discovery that Dexter and Brian were biological brothers.
Related Pages