Laura Mendell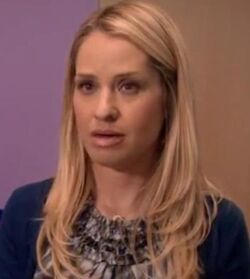 Character Profile
Portrayed By
Leslie Grossman
First Appearance
Hop a Freighter
Last Appearance
Hop a Freighter
Character
Full Name
Laura Mendell



Status
Alive



Characteristics
Age
30s
Gender
Female
Eyes
Green
Hair
Blonde
Personal Status
Marital Status
Married
Spouse
Dan Mendell
Immediate Relatives
Unnamed daughter
"My God... Who is this man I married?"
Laura Mendell is a character in DEXTER. She was the wife of a member of The Group that raped Lumen Pierce.
History
Season Five
Laura's history prior to marrying Dan and having a daughter is unclear although she met Jordan Chase at one point when he was known as Eugene Greer. When Dan was discovered dead with Lance Robinson she was distraught about the whole thing. But at the same time she also suspected something was up with her husband on these "fishing trips" and assumed this was it.
Later Detective Debra Morgan and Detective Joey Quinn came to her work as she was packing up and ready to leave. She explained how she felt about the whole thing and how secretive her husband was. Then the detectives revealed that her husband's death was staged to look like a gay homicide when in fact he was a rapist and killer of blonde women. She was both relieved and devastated by the news but gathered herself enough to give the detectives Jordan's real name and his friendship with her husband.