Kyle Butler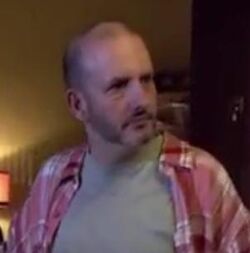 Character Profile
Portrayed By
Keith Gordon
First Appearance
Hello, Dexter Morgan
Last Appearance
Hello, Dexter Morgan
Character
Full Name
Kyle Butler



Status
Alive



Characteristics
Age
40s
Gender
Male
Eyes
Brown
Hair
Black
Personal Status
Marital Status
Married
Spouse
Unnamed wife
Immediate Relatives
Two children
Kyle Butler is one of two minor characters who only appear while Arthur is searching for Dexter in Season 4, Episode 11, Hello, Dexter Morgan. He is the Kyle Butler that actually evades Trinity's wrath.
While Arthur Mitchell was hunting down "Kyle Butler" he came across two names in a local phone book. After Dexter finding the body of one Kyle Butler, he thought that Arthur will continue to look for another. Dexter subdues the next one on the phone book list so that he can get Arthur, when he comes searching for him. However when Arthur breaks into Kyle's home, he sees the latter's picture on a Christmas card and leaves, knowing that he is not the right person.
Ad blocker interference detected!
Wikia is a free-to-use site that makes money from advertising. We have a modified experience for viewers using ad blockers

Wikia is not accessible if you've made further modifications. Remove the custom ad blocker rule(s) and the page will load as expected.