Kate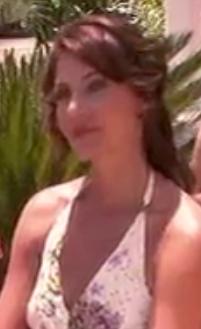 Character Profile
Portrayed By
Marisa Petroro
First Appearance
Blinded by the Light
Last Appearance
Slack Tide
Character
Full Name
Kate



Status
Schrödinger Like State



Characteristics
Age
Late 30's
Gender
Female
Eyes
Green
Hair
Black
Personal Status
Marital Status
Divorced
Spouse
Elliott
Immediate Relatives
Danny (son)
Grace (daughter)
Kate is a character in DEXTER. She becomes the neighbor of Dexter and Rita, after moving in with their family following their wedding.
Appearance
Edit
Kate is a middle aged woman who wears extreamly revealing dresses and clothes and no bra at all. She is show to have extreamly large breasts and buttox to which upon Dexters viewing causes him to say "Dayyyyyooom" which promps Rita to slap him because she is jelous
Personality
Edit
She is very permiscuous
Early Life
Edit
Much of Kate's early life is not known except that she married a man named Elliott Larson and had two children with him.
Season Four
Edit
When Rita and Dexter mover into the neighborhood Kate and her husband meet with them and become friends. Then after a few weeks Elliot and his wife start having problems and Dexter and Rita can hear it through the windows. Their arguing eventually leads to a separation. This eventually leads to a divorce and after this she is never seen again.
Ad blocker interference detected!
Wikia is a free-to-use site that makes money from advertising. We have a modified experience for viewers using ad blockers

Wikia is not accessible if you've made further modifications. Remove the custom ad blocker rule(s) and the page will load as expected.