Karen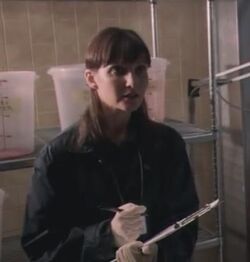 Character Profile
Portrayed By
Mary Alyce Kania
First Appearance
Born Free
Last Appearance
Living the Dream
Character
Full Name
Karen



Status
Alive



Characteristics
Age
20s to 30s
Gender
Female
Eyes
Brown
Hair
Brown
Personal Status
Professional Status
Profession
Forensic Technician
Karen is a character in DEXTER. She is a forensic technician working for Miami Metro Homicide and works on scene at Brian Moser's Apartment where the Ice Truck Killer killed most of his victims. Dexter, while dealing with the disappearance of his sister and being unable to think, asks Karen to be in charge of evidence and runs through her duties really fast. She then asks Vince Masuka if he's in charge and Masuka responds by saying "I guess he is now", due to his upfront and hurried approach. Karen continues to reappear throughout the series, usually at crime scenes in the background and is even present during Dexter and Rita's Wedding along with most of Miami Metro Homicide.
As a background character, she is one of few that is credited with both her name and a general title. In several episodes she appears in she is credited as "Technician" rather than by her name.
Ad blocker interference detected!
Wikia is a free-to-use site that makes money from advertising. We have a modified experience for viewers using ad blockers

Wikia is not accessible if you've made further modifications. Remove the custom ad blocker rule(s) and the page will load as expected.