Kaja Soroka
Character Profile
Portrayed By
Unknown
First Appearance
Are You...?
Last Appearance
Are You...?
Character
Full Name
Kaja Soroka
Aliases
None
Status
Deceased
Manner of Death
Killed by Viktor Baskov
Characteristics
Age
23 (at death)
Gender
Female
Eyes
Brown
Hair
Brown
Personal Status
Marital Status
Single



Professional Status
Profession
Stripper
Kaja Soroka is a Character in Season Seven of Dexter. She was a stripper, who was killed by Viktor Baskov. Her death lead to Detective Mike Anderson getting shot to death by her killer. She was later avenged when Dexter Morgan ambushed Victor at the airport and killed him.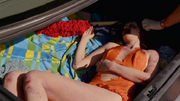 Name "Kaja" (Кажа) does not exist in Ukrainian or Russian languages. It is possible that this is a mistake in spelling of the name Katja (Katya, short for Ekaterina), which is common in Ukraine.
Her surname "Soroka" mean "magpie" in Ukrainian and Russian languages.
"Kaja" exists in the Czech language and it is pronounced as "Kaya", it is short for Karolina.
"Kaja" also exists in Polish language and it is pronounced as "Kaya". But it's not short for Karolina (which exists as a separate name in Polish).
Real person: Czech model Kaja Siroka http://netlookmodels.com/Modelky/karolina-siroka-2.aspx
Ad blocker interference detected!
Wikia is a free-to-use site that makes money from advertising. We have a modified experience for viewers using ad blockers

Wikia is not accessible if you've made further modifications. Remove the custom ad blocker rule(s) and the page will load as expected.