Kaitlyn Watson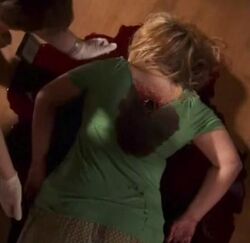 Character Profile
Portrayed By
Shannon Marie Bullock
First Appearance
The Angel of Death (Corpse)
Last Appearance
The Angel of Death (Corpse)
Character
Full Name
Kaitlyn Watson



Status
Deceased
Manner of Death
Committed Suicide
Characteristics
Age
40s
Gender
Female
Hair
Blond
Personal Status
Marital Status
Widowed
Spouse
Jim Watson (deceased)
Professional Status
Profession
House wife
Killer Profile
"No Known Alias"
Inactive
Number of Victims
2 (The second being herself)
Modus Operandi
Tools/Weapons
Revolver
Killing Method
Gunshots to the chest
Method of Disposal
None
Cause
After finding out her husband was cheating on her she goes into a rage and kills her husband with their gun. Realizing what she had done, she commits suicide soon after.
Kaitlyn Watson is a Character in DEXTER. She was a housewife who ended up killing her husband Jim Watson in Season Six. She was married to Jim Watson and had a very unhappy marriage. The husband began cheating on the wife for an unknown period of time and the wife eventually found out. This lead to tragic set of circumstances where both of them end up dead.
The police get a call out to their house and find the dead couple where they put in a call to Homicide. After this Detective Mike Anderson is sent to investigate the murders with assistance from Forensic Blood Spatter Analyst Dexter Morgan. After they get to the scene Mike initially thinks its a double murder but Dexter notices the wounds on the body and finds the husband's cell phone under the couch.
Dexter determines from this and the photo of the husband with the nude woman on the cellphone that the wife probably committed the murders. This was confirmed after Dexter lifted the wife's body and found the gun used to kill both her and her husband. After the case is solved, Lieutenant Debra Morgan moves into their house at a low price due to the recent murders.
Their names are revealed via both a dry erase board and when Lieutenant Debra Morgan is reading over the file while speaking with Mike Anderson.
Ad blocker interference detected!
Wikia is a free-to-use site that makes money from advertising. We have a modified experience for viewers using ad blockers

Wikia is not accessible if you've made further modifications. Remove the custom ad blocker rule(s) and the page will load as expected.