Julie Piotrowski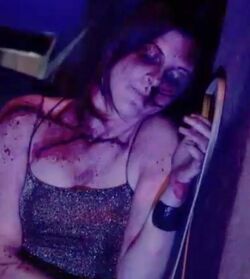 Character Profile
Portrayed By
Unknown
First Appearance
There's Something About Harry
Last Appearance
There's Something About Harry
Character
Full Name
Julie Piotrowski
Aliases
None
Status
Deceased
Manner of Death
Killed by Juan Rinez
Characteristics
Age
18
Gender
Female
Eyes
Unknown
Hair
Brown
Personal Status
Marital Status
Single



Professional Status
Profession
Prostitute
Julie Piotrowski is a character in DEXTER. She was an 18 year old prostitute under the employ of Juan Rinez, a pimp that Detective Harry Morgan had been chasing for years. Harry's interest in catching him was due to her violent death, which was caused by multiple blunt-force trauma to the back of her skull. He however always escaped the law and always evaded his grasp. Dexter Morgan, Harry's adoptive son, sought approval from his father for killing a man that Harry hunted for so long... so Dexter tracked down and killed Rinez, though the sight of seeing his son dismembering the corpse drove Harry into killing himself, which Dexter did not find out about until long after.
Ad blocker interference detected!
Wikia is a free-to-use site that makes money from advertising. We have a modified experience for viewers using ad blockers

Wikia is not accessible if you've made further modifications. Remove the custom ad blocker rule(s) and the page will load as expected.