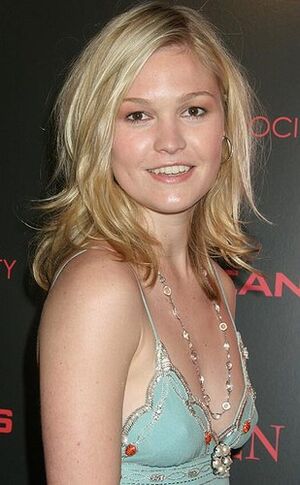 Julia O'Hara Stiles (born 28 March 1981) is an American actress.
She played Lumen Pierce, a victim of the Barrel Girl Gang and a partner/love interest of Dexter Morgan, on Showtime's DEXTER.
Appearances
Career
She started acting at the age of 11, performing with New York's La MaMa Theatre Companyand, She made her screen debut on the television series Ghostwriter (1993–1994). Her first film role was in I Love You, I Love You Not (1996), followed by a leading role in the thriller Wicked (1998), for which she was awarded the Karlovy Vary International Film Festival Award for Best Actress. She since has appeared in numerous films and television shows. She is best known for her role as Nicolette "Nicky" Parsons in the Jason Bourne series.
Personal Life
Stiles was born in New York City. In 2016, she announced her engagement to camera assistant Preston J. Cook, with whom she worked on Blackway. In June 2017, Stiles confirmed that she and Cook were expecting their first child. They were married over Labor Day weekend in September 2017. The couple welcomed their son in October 2017.
Trivia
Stiles has worked for Habitat for Humanity, building housing in Costa Rica.
She has described herself as a feminist and wrote on the subject in The Guardian.
She is a fan of horror movies.
She is a former vegan, giving it up because she found it difficult to get proper nutrition while traveling.
She loves baseball and is an avid fan of the New York Mets. She threw the ceremonial first pitch before their May 29, 2006, game. She is also a fan of soccer and the New York Red Bulls.
Gallery
Videos