Ad blocker interference detected!
Wikia is a free-to-use site that makes money from advertising. We have a modified experience for viewers using ad blockers

Wikia is not accessible if you've made further modifications. Remove the custom ad blocker rule(s) and the page will load as expected.
John Henry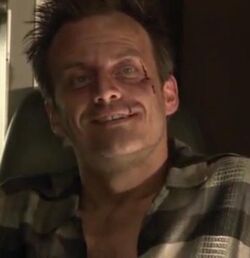 Character Profile
Portrayed By
Salvator Xuereb
First Appearance
Dex, Lies, and Videotape
Last Appearance
Dex, Lies, and Videotape
Character
Full Name
John Henry



Status
Alive



Characteristics
Age
40s
Gender
Male
Eyes
Green
Hair
Brown
Personal Status
Marital Status
Single
Spouse
N/A
Professional Status
Profession
Petty Burglar
Ex-Convict
Killer Profile
"No Known Alias"
Inactive
Number of Victims
1
Modus Operandi
Tools/Weapons
Hands
Killing Method
He breaks into elderly people's retirement homes, robs them and if interrupted will act violently. His first and only dead victim was killed by him inadvertently inducing a heart attack and his next attempted victim was beaten but not killed
Method of Disposal
None
Cause
Unknown
John Henry is a character in DEXTER. He was a petty burglar who targeted the elderly living in retirement homes until he served six years for assault and is now retired.
Season Two
Edit
Not much is known about his early years as a criminal but it is shown that six years ago he specialized in breaking into old people's homes. During one of these home invasions, one of his victims surprised him and the man had a heart attack and died right there. He at one point broke into the house of a women whom he assaulted and did six years for that B&E. After he got out he was targeted by Ken Olson, the son of the woman he assaulted six years ago. Ken captured him and brought him to the train-yard where he kept saying how the Bay Harbor Butcher was going to clean up the streets of Miami. John managed to break free and escape. He called the police and informed them of his situation where he had been kidnapped by the "Butcher."
Attempted Victims
Edit