Joe Jensen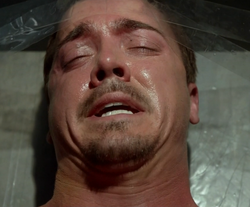 Character Profile
Portrayed By
Mike Foy
Season(s)
Season Seven
First Appearance
The Dark... Whatever
Last Appearance
The Dark... Whatever
Character
Full Name
Joseph Jensen
Nicknames
Phantom Arsonist
Status
Incarcerated



Characteristics
Age
26
Birthday
19 July 1986
Gender
Male
Eyes
Green
Hair
Brown
Personal Status
Marital Status
Single



Professional Status
Profession
Janitor
Killer Profile
"Phantom Arsonist"
Inactive
Number of Victims
10
Modus Operandi
Tools/Weapons
Flamethrower
Killing Method
Burning alive
Method of Disposal
No method of disposal
Cause
When he was a kid he was a part of his friend Bobby's idea to start a fire at their school and Bobby was inadvertently killed. Joe was caught and sent to juvie for six years where he blamed Bobby the whole time for his incarceration. When he got out he continued to blame Bobby and began setting fires. He eventually started burning people alive and watched while he left behind a message: Bobby.
Joseph "Joe" Jensen is a Character in DEXTER. He is a mysterious serial arsonist seemingly responsible for several deaths in Miami. Dexter dubs him The Phantom Arsonist after seeing the first two victims, noticing a void in the scorched area surrounding the body and the name "Bobby" mysteriously written at each crime scene.
Early life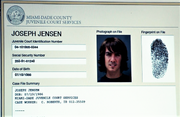 When he was twelve, he saw his friend Bobby Hemelton set their school's gym on fire, in which Bobby was inadvertently killed. When the fire was over, he was caught by the police and sent to juvie for six years, while blaming Bobby for everything. During his time at juvie he would often fight with the other children his age and younger. Two years after his imprisonment, he set his roommate's bunk on fire where for which his privileges were suspended for two months and forced to live in an individual room with higher supervision.
Plot
The victims are portrayed as self-incineration (a form of Suicide) by Arson Investigator Phil Bosso, but Dexter Morgan begins to notice that a void is present at each crime scene and believes someone else is responsible. After finding a second body, Dexter gets some one on one time to investigate the area in which the victim was killed, while Phil Bosso stands nearby. He closely watches Bosso and notices some subtle oddities with his behavior around the body as well as the crime scene, in addition to how Dexter explains what happened in the area.
After clearing Bosso, Joseph Jensen is tracked down by Dexter, who traces his fingerprint to a juvenile database. Dexter sets up a kill room in Jensen's house and almost kills him until he realizes that both Joseph and himself are killing because of a childhood trauma. He instead cuts him loose and knocks him out and calls the police and has him arrested, prompting Debra to be aware Dexter did this.
Victims
George Lee
Chris Thomas
Rhodes Mason
C. Patterson
I. Patterson
Three unnamed bus victims
Appearances