Jessica Morris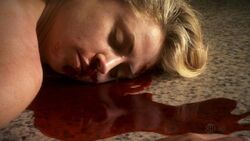 Character Profile
Portrayed By
Unknown
First Appearance
Sin of Omission
Last Appearance
Sin of Omission
Character
Full Name
Jessica Morris
Aliases
None
Status
Deceased
Manner of Death
Accidental Overdose of Heroin
Characteristics
Age
20s to early 30s (at death)
Gender
Female
Eyes
Unknown
Hair
Blonde
Personal Status
Marital Status
Single
Immediate Relatives
Mr. Morris (father)
Professional Status
Profession
Call Girl
Jessica Morris is a character in Season Six of DEXTER. She was a prostitute, whose death is the result of a heroin overdose. However, there is evidence to support she may have been the victim of involuntary manslaughter due to one other person being present at the scene.
It is later revealed that it was Thomas Matthews who was present during her death, and attempted to perform CPR to revive her. He however didn't know that she had overdosed and just cracked her ribs causing more blood to flow out. However, when he realized she had overdosed, he stopped, and left the premises.
Ad blocker interference detected!
Wikia is a free-to-use site that makes money from advertising. We have a modified experience for viewers using ad blockers

Wikia is not accessible if you've made further modifications. Remove the custom ad blocker rule(s) and the page will load as expected.