Jesse Brightman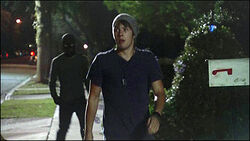 Character Profile
Portrayed By
Matthew Fahey
First Appearance
Blinded by the Light
Last Appearance
Blinded by the Light
Character
Full Name
Jesse Brightman
Aliases
None
Status
Alive



Characteristics
Age
Early-20s
Gender
Male
Eyes
Brown
Hair
Black
Personal Status
Marital Status
Single
Immediate Relatives
Andy Brightman (father)
Unnamed mother (deceased)
Professional Status
Profession
Musician
Jesse Brightman is a neighborhood teenager who lives near Dexter and Rita's house. There is a vandal in Dexter's community, and he thinks it's Jesse. He has to deal with this vandal thing so he can come in and out without a Watch thinking it's suspicious (the Watch is set to get the vandal). Dexter enters Jesse's house, only to discover that the vandal is his father.
Astor also seems to have some kind of romantic interest in him, even though he is much older than her (in "Blinded By The Light" they are seen talking, and he tells her to which college he is going).
He, apparently, is a rebel because his mother died.
Ad blocker interference detected!
Wikia is a free-to-use site that makes money from advertising. We have a modified experience for viewers using ad blockers

Wikia is not accessible if you've made further modifications. Remove the custom ad blocker rule(s) and the page will load as expected.