Jeff Lindsay is an American writer. He has written seven Dexter novels so far, Darkly Dreaming Dexter (2004), Dearly Devoted Dexter (2005), Dexter in the Dark (2007), Dexter By Design (2009), Dexter is Delicious (2010), Double Dexter (2011), and the latest Dexter's Debut (2013) - which was retitled as Dexter's Final Cut before release.
Personal Life
Edit
Jeff Lindsay is the pen name of American playwright and crime novelist "Jeffry P. Freundlich,[1]" (born July 14, 1952), best known for his novels about sociopathic vigilante Dexter Morgan. Many of his earlier published works include his wife Hilary Hemingway as a co-author. His wife is the niece of Ernest Hemingway and an author in her own right. Lindsay was born in Miami and graduated from Ransom Everglades high school in 1970, and from Middlebury College, Vermont, in 1975.
Cameo in TV Series
Edit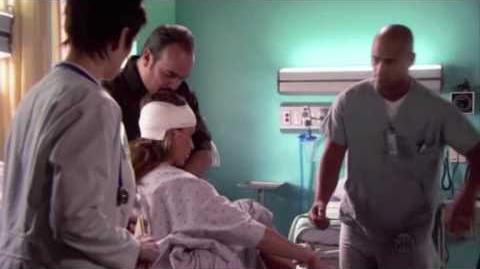 Lindsay had a brief cameo in the
episode 10 "
Go Your Own Way
" of
season 3
. He portrays a police officer.
Angel
talk to him before he goes to see
Gianna
in the hospital room.
Continuing the franchise
Edit
Main article: Dexter Comics
Jeff Lindsay worked on 2012 with Marvel comics to publish a five-issue limited series for Dexter, based on the continuity of this novels rather than the tv-series for legal reasons, in the same manner actor Michael C. Hall's likeness was not used in the comic series. The series was simply titled Dexter.
He returned on 2013 to work along with Marvel again to publish a sequel to his comic series, the new volume titled Dexter: Down Under. Lindsay worked as the writer for both volumes.
At first, Lindsay wanted to name his first book as "

Pinocchio Bleeds

", the name

his middle daughter suggested, but

his publisher disagreed. So it changed to

"Darkly Dreaming Dexter".
References
Edit
Ad blocker interference detected!
Wikia is a free-to-use site that makes money from advertising. We have a modified experience for viewers using ad blockers

Wikia is not accessible if you've made further modifications. Remove the custom ad blocker rule(s) and the page will load as expected.