Javier Guzman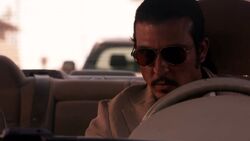 Character Profile
Portrayed By
Nick Gomez
Season(s)
Season Eight
First Appearance
A Beautiful Day
Last Appearance
Every Silver Lining
Appears in
Two Episodes
Character
Full Name
Javier Guzman
Aliases
El Sapo
Status
Deceased
Manner of Death
Shot by Debra Morgan
Characteristics
Age
30s (at death)
Gender
Male
Eyes
Brown
Hair
Black
Personal Status
Marital Status
Single
Professional Status
Profession
Hitman
Killer Profile
"El Sapo"
'''Inactive'''
Number of Victims
At least 3
Modus Operandi
Tools/Weapons
Hand Gun
Killing Method
Shoots the victim
Method of Disposal
None
Cause
Hitman (kills for money)
Javier Guzman is a character in DEXTER. He is a hitman who goes by the alias "El Sapo." He targets Andrew Briggs after Briggs robs a jewelry store owned by Guzman's employers. 
Summary
In order to get close to Briggs, Guzman poses as a fence. He offers to buy the jewels from Briggs that no one else is willing to buy, since Briggs had stolen them from a store owned by organized crime. However, before Briggs can tell Guzman where the jewels are, he is murdered by Dexter Morgan. Despite this, Debra manages to find the key to Briggs' storage unit where she believes the jewels are hidden. 
Guzman begins to follow Debra, believing that she will lead him to the jewels. Debra eventually goes to Briggs' storage unit and finds the jewels. Unfortunately, Guzman shows up, disarms her, and the two engage in a fight. Guzman subdues Debra and brutally kicks her while she is on the floor. He aims a gun at her but doesn't pull the trigger, claiming that he doesn't kill people unless he's paid to do so. Guzman then leaves and takes the jewels out to his car. While his guard is down, Debra approaches and shoots Guzman three times before making off with the jewels.