Jane Saunders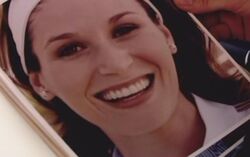 Character Profile
Portrayed By
Neeona Neal
First Appearance
Dexter
Last Appearance
Dexter
Character
Full Name
Jane Saunders



Status
Deceased
Manner of Death
Killed by Jamie Jaworski
Characteristics
Age
30s to 40s
Gender
Female
Eyes
Brown
Hair
Brown
Personal Status
Marital Status
Married
Spouse
Unknown Husband (widowed)
Immediate Relatives
Husband (widowed)
Two sons
Jane Saunders is a character in DEXTER. She was a mother of two married to a successful banker, who unfortunately met a tragic end when she was murdered by Jamie Jaworski. Dexter begins to track Jaworski and manages to find enough evidence to kill him, following him to a Baywater plumbing facility where Jaworski likes to steal the copper pipes and sell them for money. Jaworski is tipped off by a noise and shadow that someone's following him, so he moves throughout the facility and spots a picture of Jane Saunders. As he picks up the picture, he's injected with M99 by Dexter from behind and placed on his table. Jaworski reveals that he did in fact kill Jane after making a snuff film where he raped her, but he wasn't sorry for what he did. Dexter then cut off his head with a cleaver and dealt with the disposal by his usual fashion.
Ad blocker interference detected!
Wikia is a free-to-use site that makes money from advertising. We have a modified experience for viewers using ad blockers

Wikia is not accessible if you've made further modifications. Remove the custom ad blocker rule(s) and the page will load as expected.