Jamie Jaworski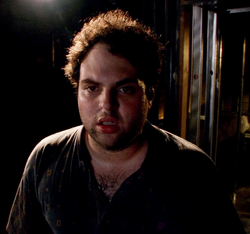 Character Profile
Portrayed By
Ethan Smith
Season(s)
1
First Appearance
Dexter
Last Appearance
Dexter
Appears in
1 episode
Character
Full Name
Jamie Jaworski
Aliases
None
Status
Deceased
Manner of Death
Killed by Dexter Morgan.
Characteristics
Age
29 (at death)
Gender
Male
Eyes
Brown
Hair
Black
Personal Status
Marital Status
Single



Professional Status
Profession
Valet
Killer Profile
"No Known Alias"
Inactive
Number of Victims
1
Modus Operandi
Tools/Weapons
Knife
Killing Method
He first binds his victim then he rapes her and then kills her with unknown methods while taping himself doing the deed
Method of Disposal
Bodies are left where he killed them
Cause
He takes sadistic pleasure of raping and killing women in snuff films
Jamie Jaworski is a character in DEXTER. He was a valet with a taste for sexual sadism and snuff films, and he eventually kidnapped a woman named Jane Saunders before binding, raping and then killing her, filming himself doing so in order to make a snuff film, though it is never revealed if he actually knew Jane or not prior to abducting her.
Jaworski worked as a parking valet, which was a job he used to find his potential murder victim, Jane Saunders. Dexter discovered that he raped and murdered her, recorded it, and posted it to S&M website "Scream Bitch Scream".
During his trial, he escaped justice due to a faulty search warrant. When spying on him, Dexter noticed a distinct tattoo on Jaworski's right forearm; the same one was visible in the rape/snuff film, proving he was the man who killed Jane Saunders.

On the night of his death, Jamie was trespassing on a construction site stealing copper piping; during this, Dexter managed to surprise and sedate him with a cookie. He was restrained to a stack of sheetrock, where Dexter completed his kill ritual, ending Jamie's life with Dexter possibly cutting his head off. Jaworski admits his crime but has no remorse for it since his last words were "But i'm not sorry!" to which Dexter replies "Of course not, but no, I'm not sorry either."
Jaworski also appears in Dexter: The Game, where he's identical to the series but can be spared if player wants so to increase his "Mask" counter.
Though Jane was his only victim it's obvious by how he looks at some women, whose cars he parked, that he was seeking for a second victim.
Ad blocker interference detected!
Wikia is a free-to-use site that makes money from advertising. We have a modified experience for viewers using ad blockers

Wikia is not accessible if you've made further modifications. Remove the custom ad blocker rule(s) and the page will load as expected.