Jake Simms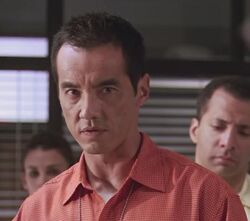 Detective Jake Simms is a character in DEXTER. He is one of many detectives in the Miami Homicide Department and is primarily featured during the Ice Truck Killer Investigation. He provides constructive criticism during the latter investigation and even represents the other officers feelings during the change in authority from Maria LaGuerta and Esmee Pascal.
Appearance
Edit
Simms is a middle-aged Hispanic man with slightly spiked black hair that is usually seen wearing orange, somewhat like Robert Ramos. He appears to be a physically fit man, making him more of an imposing member on the force than a typical background character.
Personality
Edit
Unlike most of the background detectives, Simms actually speaks on several occasions and offers his insight into theories on how they should pursue a case. He speaks multiple times during the Ice Truck Killer investigation, usually providing criticism to an idea by characters such as Dexter Morgan or Debra Morgan. He is shown reacting with shock along with the rest of Miami Metro to Maria LaGuerta's arrest of Dexter Morgan. 
Season One
Edit
Season Two
Edit
Season Seven
Edit
Appearances
Edit
Ad blocker interference detected!
Wikia is a free-to-use site that makes money from advertising. We have a modified experience for viewers using ad blockers

Wikia is not accessible if you've made further modifications. Remove the custom ad blocker rule(s) and the page will load as expected.