Jack Rice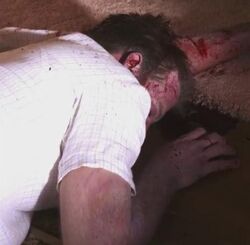 Character Profile
Portrayed By
Unknown
First Appearance
All in the Family
Last Appearance
All in the Family
Character
Full Name
Jack Rice



Status
Deceased
Manner of Death
Killed by Fiona Camp
Characteristics
Age
34 (at death)
Gender
Male
Eyes
Blue
Hair
Black
Personal Status
Marital Status
Single



Jack Rice is a character in DEXTER. He was a man who was stalked by a woman named Fiona Camp.
When Jack went to the movies Fiona spotted from a far and fell in love with him and started stalking him. She then broke into his house and surprised him. She then proclaimed that she loved him and that they should be together. When he rejected her she manufactured a picture of her and him together and broke into his house a second time and bashed his head in with a statue "to preserve their love." She was later arrested for his murder and incarcerated.
Ad blocker interference detected!
Wikia is a free-to-use site that makes money from advertising. We have a modified experience for viewers using ad blockers

Wikia is not accessible if you've made further modifications. Remove the custom ad blocker rule(s) and the page will load as expected.