Irma Holt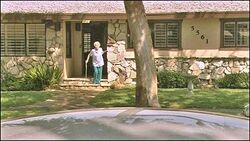 Character Profile
Portrayed By
Jeanette Miller
First Appearance
Father Knows Best
Last Appearance
Father Knows Best
Character
Full Name
Irma Holt



Status
Deceased
Manner of Death
Killed by Brian Moser
Characteristics
Age
60's (at death)
Gender
Female
Eyes
Brown
Hair
White
Personal Status
Marital Status
Single



Irma Holt is a character on DEXTER. She was Joe Driscoll's elderly neighbor.
When she first met Dexter, she mentioned a "cable repair man" who she had seen visiting her neighbor, Joe Driscoll. At the end of the episode, it's revealed (to the audience) that the "cable repair man" was Brian Moser. Later, she's seen opening her door to be greeted by Brian, who was dressed as a cable repair man. Brian then entered her house and closed the door behind him. He then killed her. It is not known whether he made it look like a heart attack as he did with Joe Driscoll, or if he killed her in another way and disposed of her body.
Ad blocker interference detected!
Wikia is a free-to-use site that makes money from advertising. We have a modified experience for viewers using ad blockers

Wikia is not accessible if you've made further modifications. Remove the custom ad blocker rule(s) and the page will load as expected.