Gail Brandon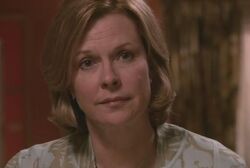 Gail Brandon is a character in DEXTER. She is Rita Morgan's mother and Cody's, Astor's and Harrison's grandmother, as well as Dexter Morgan's former mother-in-law. She was a schoolteacher in Ashley, Michigan until the school board forced her to take early retirement due to her overly strict teaching style. A snide and controlling woman, she's exceedingly distrusting of anyone especially people her daughter takes interest in.
Personality
Gail has extremely high standards, making her judgmental of her daughter and her grandchildren, presumably because she used to be a schoolteacher. She also distrusts Dexter, who she believes is a drug addict, and believes Rita is repeating her mistake with Paul by getting involved with another addict.
Season 2
After Gail arrives, she becomes suspicious of Dexter, claiming that he is hiding something. When she finds out that Dexter is a "drug addict" she believes that Rita is making the same mistake again. After Dexter and Rita break up, because of Dexter's affair with Lila, Gail starts to boss Rita and her children around. Near the end of season two, her attitude causes Rita to break off all ties with her and force her to leave her home, not wanting her children to be exposed to her (like she was).
Season 3
Gail refused to attend Dexter and Rita's wedding, claiming that because she had started teaching again she was too busy. She did, however, send a scathing card expressing her hope that Rita's third marriage would be "the charm", though Rita is hiding that fact in stating that her mother means the third child.
Trivia
Strangely, she does not attend her daughter's funeral in Season 5.