Gabrielle: "Never piss off your pimp"
- Gabrielle, referring to
Maria LaGuerta
in
Debra Morgan'
s case.
Gabrielle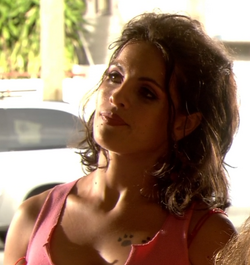 Character Profile
Portrayed By
Mennette Colón
Season(s)
1
First Appearance
Popping Cherry
Last Appearance
Popping Cherry
Appears in
1 episode
Character
Full Name
Gabrielle (assumed prostitute name)
Aliases
Gabrielle
Status
Alive



Characteristics
Gender
Female
Eyes
Brown
Hair
Black
Personal Status
Professional Status
Profession
Prostitute

Gabrielle is a character in DEXTER. She is one of several prostitutes that knew Debra Morgan under the name "Brandy" while she was working undercover as a Vice Officer in the Miami Metro Police Department. After a third victim, Sheri Taylor, ends up murdered by the Ice Truck Killer Deb visits Bella, Shanda, Gabrielle and Bridget (who ends up running away when she hears the word "cop"), informing them of "Cherry"'s (Sheri Taylor) death and asks them if they have any information on when they last saw her. Gabrielle is one of the more outspoken members of the group, cussing just about as much Shanda. She informs Deb that she has a sister that lives in Ohio that runs a boutique shop and that first thing tomorrow she's hopping on a bus up there. After Deb gets some info out of Bella about a station wagon, she mentions LaGuerta and Gabrielle inquires about her...claiming that she's "her pimp". The girls then explain how it's true because she gives orders, makes Deb take all the risk and takes a big cut of the money, which Deb does agree with in the end.
Later in the same episode, Debra claims to have gotten the info about the station wagon from Gabrielle when talking to Matthews. When in fact it was Bella who told Deb about it. The credits label Gabrielle as Mennette Colon, whom seen above looks like the Latina prostitute rather than the blonde Caucasian referred to as Bella (who, the actress of is shown to be Caucasian).
Ad blocker interference detected!
Wikia is a free-to-use site that makes money from advertising. We have a modified experience for viewers using ad blockers

Wikia is not accessible if you've made further modifications. Remove the custom ad blocker rule(s) and the page will load as expected.