Fred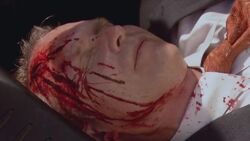 Character Profile
First Appearance
Born Free
Last Appearance
Born Free
Character
Full Name
Fred



Status
Deceased
Manner of Death
Killed by Brian Moser
Characteristics
Age
30's to 40's
Gender
Male
Eyes
Unknown
Hair
Light brown to Grey
Personal Status
Professional Status
Profession
Unknown
Fred is a character in DEXTER. Fred is the last unfortunate victim of Brian Moser, the Ice Truck Killer and lost his life so that Brian could have "a set of wheels". While Brian was taking Debra Morgan to the Moser Family House, he met with a man and hit him over the head with some sort of object that left him for dead. He is then thrown into the trunk of his car along with Debra, who continues to scream as the tape around her mouth comes loose. Brian stops the car, steps out and quotes the following:
"Sorry, but you're drowning out Fred's radio and he was kind enough to lend us his wheels."
Fred is never mentioned again, it is likely his body was found inside of his vehicle at the Moser household.
Ad blocker interference detected!
Wikia is a free-to-use site that makes money from advertising. We have a modified experience for viewers using ad blockers

Wikia is not accessible if you've made further modifications. Remove the custom ad blocker rule(s) and the page will load as expected.