Francis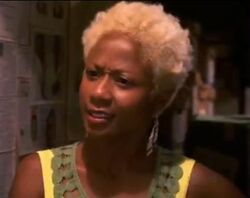 Character Profile
Portrayed By
Tasia Sherel
First Appearance
The Dark Defender
Last Appearance
Teenage Wasteland
Character
Full Name
Francis



Status
Alive



Characteristics
Age
30s
Gender
Female
Eyes
Brown
Hair
Blonde
Personal Status
Marital Status
Single



Professional Status
Profession
Miami Metro Police Station Records Supervisor
Francis is a character in DEXTER. She works for the Miami Metro Police Department. She is somewhat Camilla Figg's replacement in the fileroom, having interaction with both Dexter Morgan and Debra Morgan.
Description
Francis is a young, attractive African American woman with short, dyed blonde hair that occasionally wears multi-colored patterned clothing that almost always reveals her arms and shoulders. She'll sometimes wear skirts but nothing too revealing.
Personality
Francis is a generally kind person, wanting to help both of the Morgan siblings (even to the point of bending rules just like Camilla Figg before her). Since she has only interacted with the two siblings, not much can be said on how she reacts around other characters. She has a fascination with Harrison Morgan in the sense that she thinks he's absolutely adorable and is jokey whenever she encounters a Morgan child, talking girl talk with Debra and is somewhat flirtatious with Dexter himself.
Summary
Season Two
She first appears giving Dexter old files about his mother's murder.
Season Three
Then she gets a surprise when Debra goes to see her in the record room. Debra asks her to begin pulling information on all of her father's attractive female informants. Francis eventually comes through and gives Debra all of Detective Harry Morgan's female CI files. Since then, both Debra and Dexter sometimes ask her to find information in the record room.
Appearances