Florencia Estrada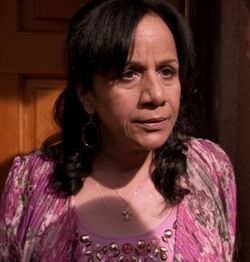 Florencia Estrada is a character in DEXTER. She was the wife of Hector Estrada, who ordered the death of Laura Moser.
 She first appears in the season finale of season seven when Dexter Morgan attempts to track down Hector Estrada after his attempt to kill him goes wrong, due to the intervention of Maria LaGuerta. He goes to her home, claiming to be Hector's parole officer, Arthur Curry, looking for him. Florencia says that he is not there, but Dexter suspects that the two still remain in contact. He continues to shadow Florencia, following her to a public park where she meets with a disguised Hector, confirming Dexter's suspicion that the two were still in cahoots. When Florencia leaves, Hector takes a nap on the bench and Dexter later caputres and kills him. 
Ad blocker interference detected!
Wikia is a free-to-use site that makes money from advertising. We have a modified experience for viewers using ad blockers

Wikia is not accessible if you've made further modifications. Remove the custom ad blocker rule(s) and the page will load as expected.