Felipe Cepeda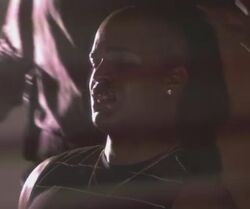 Character Profile
Portrayed By
Celestin Cornielle
First Appearance
Sì Se Puede
Last Appearance
Sì Se Puede
Character
Full Name
Felipe Cepeda



Status
Alive



Characteristics
Age
20s
Gender
Male
Eyes
Brown
Hair
Black (Shaven)
Personal Status
Marital Status
Single



Professional Status
Profession
Marijuana supplier
Felipe Cepeda is a character on DEXTER. He was a marijuana dealer who Debra Morgan questions for information about Freebo. While investigating the Skinner Case, Ramon Prado is suspected of being the Skinner and as a result is put under investigation. During this time Ramon goes to Felipe to attain information about Fred Bowman, which he tells him he doesn't have any. Later Ramon tasers Felipe, puts him in his trunk and drives to a secluded location. Ramon asks him one more time for information about Freebo which Felipe says he doesn't know anything. Ramon doesn't believe him and tortures him by shaking soda bottles and opening them near his face. It shoots right up Felipe's nose, causing him to scream in agony. Ramon asks him again and again but Felipe gives the same answer, as a result Ramon sets him free totally unaware that Detectives Debra Morgan and Joey Quinn were watching the whole time.
Ad blocker interference detected!
Wikia is a free-to-use site that makes money from advertising. We have a modified experience for viewers using ad blockers

Wikia is not accessible if you've made further modifications. Remove the custom ad blocker rule(s) and the page will load as expected.