Felicia Barnes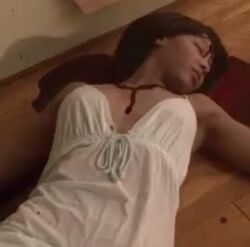 Character Profile
First Appearance
See-Through
(Corpse)
Last Appearance
See-Through
(Corpse)
Character
Full Name
Felicia Barnes



Status
Deceased
Manner of Death
Killed by Curtis Barnes
Characteristics
Age
36
Gender
Female
Eyes
Blue
Hair
Black
Personal Status
Marital Status
Married
Spouse
Curtis Barnes (deceased)
Felicia Barnes is a Character in DEXTER. She was a woman married with an Army Special Forces officer named Curtis Barnes. During her marriage after he returned from duty she would hear Curtis scream every day in the middle of the night over the terrible things he's done in the service. She tried to get him to talk about it and to see a therapist but he refused saying there was no helping him through this. Then after many years she finally said that she has had enough and that she is leaving him since he won't get help and can't stand his constant screaming in the night. Curtis becomes so enraged that he shoots her twice in the chest and once in the head, effectively killing her.
Ad blocker interference detected!
Wikia is a free-to-use site that makes money from advertising. We have a modified experience for viewers using ad blockers

Wikia is not accessible if you've made further modifications. Remove the custom ad blocker rule(s) and the page will load as expected.