Eva Arenas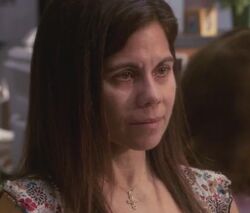 Character Profile
Portrayed By
Anna Maganini
First Appearance
It's Alive!
Last Appearance
Waiting to Exhale
(Corpse)
Character
Full Name
Eva Arenas



Status
Deceased
Manner of Death
Killed by an unknown assassin on Little Chino's orders
Characteristics
Age
40's
Gender
Female
Eyes
Brown
Hair
Black
Personal Status
Marital Status
Single
Immediate Relatives
Rafael Arenas (son; deceased)
Marissa Arenas (daughter)
Eva Arenas is a character in DEXTER. She is the mother of Rafael Arenas and Marissa Arenas, as well as a convicted drug user. Following her son's murder, she becomes very hysterical and emotional unfortunately also making her a target of the Twenty-Ninth Street Kings when she agrees to testify against Little Chino, the man suspected of killing Rafael as well as at least nine other people (in addition to two witnesses killed for the trials against him). She's first introduced when she charges onto a crime scene screaming the name of her deceased son while collapsing into the arms of Dexter Morgan, begging for him to get justice by killing the man who did this. She later tells Angel Batista in an interview that her son was forced to go with Chino the night of his murder and she agrees to testify, only to be refused due to her past history as a drug user.
Her life comes to an unfortunate end after Dexter fails to kill Chino due to his mental state and Chino comes after her shortly thereafter. A tape clears his name (suggesting he was elsewhere at the time of the murder), though it very well could have been fabricated (though according to story canon, it was real) and puts him back into Dexter's sight. A boy named Joey Munez is present at the site of the crime scene where Eva is found dead, he insults the police for never doing anything and later after being caught by Officer Debra Morgan, snitches on the entire gang who are put into cuffs. Only Chino escapes and hunts down Joey, only to be caught by Dexter on track to his victim. Eva and her daughter Marissa are finally brought Justice when Chino is finally killed, cut up and on his way up the Gulf Stream.