Ernesto Rodriguez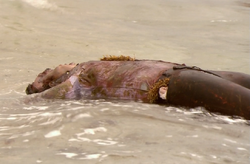 Character Profile
Portrayed By
Unknown
First Appearance
Love American Style
Last Appearance
Love American Style
Character
Full Name
Ernesto Rodriguez



Status
Deceased
Manner of Death
Killed by the Castillos
Characteristics
Age
31
Gender
Male
Eyes
Brown
Hair
Black
Personal Status
Marital Status
Single



Ernesto Rodriguez is a character in DEXTER. He was the fiance of a woman named Yelina. He has the Castillos smuggle him into the country to be wed to Yelina but they try to extort more money out of her. When she can't Ernesto is killed and his body is thrown to shore. Dexter deals with him and his wife, while Yelina identifies the body of her late fiancee.
Ad blocker interference detected!
Wikia is a free-to-use site that makes money from advertising. We have a modified experience for viewers using ad blockers

Wikia is not accessible if you've made further modifications. Remove the custom ad blocker rule(s) and the page will load as expected.