Popping Cherry is the third of twelve episodes in Season One and the third episode in the DEXTER television series. The episode first aired on October 15, 2006.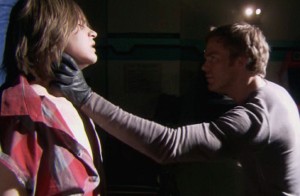 While LaGuerta focuses the department's attention on a potential suspect in the Ice Truck Killer case, Debra continues to look elsewhere. Doakes pays a visit to drug lord Carlos Guerrero.
After the dead body of another of victim of the so-called "Ice Truck Killer" is found on the ice rink at Miami's Hockey Dome, Dexter helps out Debra, newly transferred to the homicide squad to investigate when Lt. LaGuerta, ambitious for a promotion and the media spotlight, decides to have the department pursue a security guard whom they believe is the Ice Truck Killer. Meanwhile, Rita receives an unpleasant visit from her imprisoned ex-husband's drug dealer who confiscates her car, leading Dexter to drive her to and from her hotel receptionist job, while at the same time, Dexter zeros in on his next victim, a recently paroled teenage murderer who harbors some dark secrets of his own. Dexter also flashes back to committing his first killing: a nurse who he suspected was poisoning his terminally sick foster father. Elsewhere, Sgt. Doakes continues to hound the drug kingpin Carlos Guerrero, but gets in over his head when a group of dirty cops decide to take matters involving Guerrero into their own hands.
Guest starring
Edit
Co-starring
Edit
Ad blocker interference detected!
Wikia is a free-to-use site that makes money from advertising. We have a modified experience for viewers using ad blockers

Wikia is not accessible if you've made further modifications. Remove the custom ad blocker rule(s) and the page will load as expected.