"Crocodile" is the second of twelve episodes in Season One as well as the second episode in the series DEXTER. The episode aired on October 8th, 2006.
Synopsis
Edit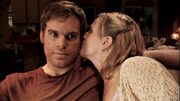 Dexter Morgan assists detectives Batista and Doakes in investigating the murder of an undercover officer. Debra discovers a piece of evidence in the Ice Truck Killer Investigation that helps her get ahead.
Dexter assists Detective Batista (David Zayas) and Sergeant Doakes (Erik King) in investigating the murder of an officer who was working undercover investigating drug baron Carlos Guerrero (Rudolf Martin). Doakes becomes personally involved in the case, as he was having an affair with the officer's wife, who was also attacked.
Meanwhile, Debra discovers the refrigerated truck in which the Ice Truck Killer dismembers his victims. She is promoted by her superior, Lieutenant Maria LaGuerta (Lauren Vélez), to the Homicide Department. Inside the truck, Debra, Batista, and Dexter find a block of ice with five fingertips in it, left deliberately by the Ice Truck Killer.
After the scene where Debra is transferred to homicide, Batista and LaGuerta have a short conversation in the kitchen in Spanish without subtitles. The rough translation of the scene is as follows:

LaGuerta: How's Nina and your daughter?
Batista: They're marvelous.
LaGuerta: You know they need you too, eh?
Batista: (Small nod, says nothing)
LaGuerta: Angel, go home.
Regulars
Edit
Guest Starring
Edit
Co-Starring
Edit
Maureen Muldoon as Kara Simmons
Keith Pillow as Lawyer
Brandon Morris as EMT
Roger Hewlett as Mr. Pryce
Alex Schemmer as Alexander Pryce
Andrew Hawkes as Officer Wilkins
Roxanne Beckford as Reporter Candice DeSallee
Nine Onuora as Uniform #1
Camilla Banus as Girl Swimming
Wing Armstrong as Medical Examiner Munoz
Jason Bartley as Crime Scene Officder
Rob Goodman as Ricky Simmons
Erik Joseph as Police Officer
Ad blocker interference detected!
Wikia is a free-to-use site that makes money from advertising. We have a modified experience for viewers using ad blockers

Wikia is not accessible if you've made further modifications. Remove the custom ad blocker rule(s) and the page will load as expected.