This article/section is a stub
This article/section is short and lacking information. You can help the Dexter Wiki by expanding it.
Elliott Larson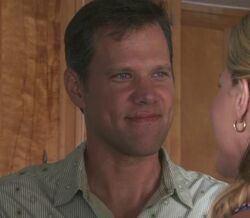 Character Profile
Portrayed By
Rick Peters
First Appearance
Living the Dream
Last Appearance
Teenage Wasteland
Character
Full Name
Elliot



Status
Alive



Characteristics
Age
Late 30's
Gender
Male
Eyes
Green
Hair
Black
Personal Status
Marital Status
Divorced
Spouse
Kate
Immediate Relatives
Danny (son)
Grace (daughter)
Elliot Larson is a character in DEXTER. He becomes the neighbor of Dexter and Rita, after moving in with their family following their wedding.
Description
History
Early Life
Not much is known about Elliot's early life. He married a woman named Kate and had two children with her.
Season Four
When Rita and Dexter move into the neighborhood Elliot and his wife meet with them and become friends. Then after a few weeks Elliot and his wife start having problems and Dexter and Rita can hear it through the windows. Their arguing eventually leads to a separation. Recently having separated from his wife, he's now a single father, and becomes friends with the Morgans, much to Dexter's annoyance. Elliot eventually develops a romantic interest in Rita. Kate eventually moves out of his house leaving Elliot feeling lonely. Doing so Elliot starting spending more time at the Morgan's and spending time with the children. During Thanksgiving he shares a kiss with her, as witnessed by Masuka. When Dexter eventually finds out, he responds by punching him in the face.
Season Five
After Rita's death, he is interviewed as a potential witness and suspect, but is cleared. Later, he apologizes to Dexter for kissing Rita. Later, he meets Lumen Pierce while she is staying at Rita's now-unoccupied house.