Ellen Wolf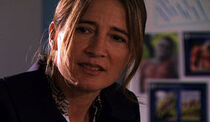 Character Profile
Full Name
Ellen Wolf



Status
Deceased
Reason
Killed by Miguel Prado
Characteristics
Age
38 (at death)
Gender
Female
Eyes
Brown
Hair
Blonde
Personal Status
Marital Status
Divorced (Twice)
Spouse
Unnamed husband #1 (divorced)
Unnamed husband #2 (divorced)
Professional Status
Profession
Defense Attorney
TV Appearances
First Appearance
The Lion Sleeps Tonight
Last Appearance
About Last Night
Portrayed By
Anne Ramsay
Ellen Wolf was a character on the show DEXTER. She worked as a defense attorney and was Miguel Prado's main rival. Ellen believes Miguel bends the rules to put innocent people in prison while Miguel believes Ellen helps guilty people get off. Miguel believes that people like Ellen are the root of the problem that Dexter tries to solve through killing.
Appearance
Edit
Personality
Edit
Season Three
Edit
She is first seen when Miguel sentenced her client Chicky Hines, although Lieutenant Maria LaGuerta had brought him proof that Hines was innocent. LaGuerta goes to Wolf's house and brings her the evidence, proving Hines' innocence. This causes them to become friends, although LaGuerta can't seem to accept Wolf's negative attitude towards Miguel.
After a man named Albert Chung kills a young college valedictorian Miguel tells Dexter Morgan that he was Wolf's client and she had set him free, when he pushed an old lady down the stairs, killing her. Miguel thinks that Dexter should kill her, but Dexter is reluctant . Later, Wolf shows up at LaGuerta's office to discuss Albert's Chung surrender terms and gets in a heated argument with Miguel, where Dexter and LaGuerta are also present. However, Wolf decides to betray her client and with her help, the police arrests Chung. After Miguel hears that, he then admits to Dexter that he was right about not killing Ellen Wolf.
Later, Wolf goes with LaGuerta to a police convention. After that, they visit a bar where she flirts with the bartender Toby Edwards. That night when Wolf is at home she is visited by Miguel, who kills her and buries her body in cemetery. The next day when LaGuerta can't seem to find her, Dexter becomes suspicious, goes to her house and eventually understands what Miguel has done. Dexter then goes to the cemetery and digs her body up to teach Miguel a lesson, but also removes any potential evidence of the killers' identity.